Atelier d'écriture et de récit en dialogue avec l'art
À propos de cet évènement
Les histoires du foyer, du chez-soi, sont des histoires qui racontent comment on arrive au hasard de la naissance et de la vie quelque part, comment on repart – que ce soit par choix ou de force – comment on s'installe de nouveau ailleurs. Ce sont des histoires faites de coïncidences, auxquelles nous accordons une grande importance a posteriori et des histoires façonnées par des bouleversements historiques, sur lesquels nous n'avons aucun contrôle, écrit l'essayiste Daniel Schreiber dans son livre Zuhause (Chez-soi).
Nous revenons sans cesse, par le récit, sur les lieux, qui au cours de notre vie ont été des foyers, nous les chargeons de nos souvenirs, de nos sentiments et de nos perspectives. Le mot "chez soi" évoque beaucoup de choses, qu'il s'agisse de notre vie présente ou passée dans certains édifices et leur entourage, de notre relation aux autres, de nos aspirations ou de nos sentiments contradictoires.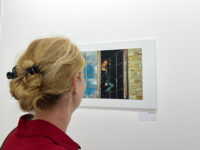 Que signifie "être chez soi" pour toi ?
Pour explorer cela de manière créative, nous t'invitons à notre atelier de narration et d'écriture dans le cadre de l'exposition de photographies Home Between a Shelter and a Cage ("Le chez-soi entre cocon et prison") du photographe Yoav Goldwein. Nous voulons nous laisser inspirer par ses images et les relier à nos propres expériences.
Découvre avec Mélina Garibyan & Astrid Nierhoff quelques outils de base du Storytelling, prends plaisir à observer des images, à échanger avec le groupe et à développer ta propre histoire courte, qui peut être personnelle ou fictive.
Aucune connaissance préalable n'est requise, le plaisir de participer à une activité créative suffit amplement.
A la fin, nous célébrerons ensemble nos petites œuvres autour d'un verre avec ou sans alcool. Ceux qui le veulent sont invités à prolonger la soirée au restaurant.
Nous nous réjouissons de t'accueillir!
L'atelier a lieu dans le cadre de l'exposition photographique Home Between a Shelter and a Cage de l'artiste Yoav Goldwein, présentée du 5 août au 30 septembre au Brüneo Artwork Spaces à Brühl.
Rendez-vous
17.09.2022, 17:00
Brüneo Espaces d'artwork
Marie-Curie-Straße 3, 50321 Brühl